Fuel Tanks
UL 142–Certified Above-Ground Fuel Tank Construction
Pride in Precision!
Jake's Inc. is an Underwriter Laboratories (UL) 142–certified industry leader in the fabrication of above-ground fuel tanks. We manufacture single- and double-wall carbon and stainless steel tanks ranging from 20 gallons to several thousand for both domestic and international enterprises.
Each fuel tank produced by Jake's Inc. is welded in a dedicated positioner and fully inspected by a Certified Weld Inspector (CWI). The tank you need for your business can be custom built for size, shape (cylindrical or rectangular) and mounting style.
We fabricate integrated fuel tanks within a framework of vehicles and structures as well. Your business can also request a variety of surface-coating operations such as primer, wet paint and epoxy.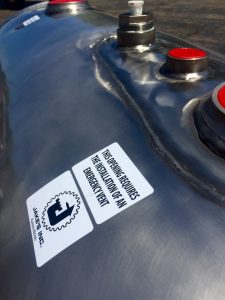 Just a few of many versatile fuel tank applications through Jake's Inc. include:
Double-wall tanks up to 20,000 gallons with multi-storage capability
Tanks on saddles with optional full-length skids for easier set-up onsite
Fuel-dispensing systems with minimal installation requirements
Fuel-dispensing equipment with complete reliability according to industry standards
Portable tanks for job sites
Tanks and sinks for waste oil
Chemical, gas & diesel, and bulk dry-good storage
Storage tanks for vehicle fluids such as antifreeze, lubricants and transmission fluids
Jake's Inc. expert tank construction also serves a wide range of professions. We supply above-ground fuel tanks for industries such as:
Construction
Fleet
Agriculture
Industry
Petroleum & Alternative Fuels
Equipment Distributors
Our custom tank construction at our state-of-the-art fabrication facility complies with all local, state and federal regulations for above-ground fuel tanks. Jake's Inc. fuel tanks are likewise 100% leak tested and approved before being shipped with full traceability including serial numbers.
Find out more about our UL 142–certified tank construction or request a quote today – contact us at (630) 892-3291 to speak with a specialist in above-ground fuel tanks.